Riverbend 2015 Year 4/5 Team
Riverbend Year 4/5 Cricket Camp 2015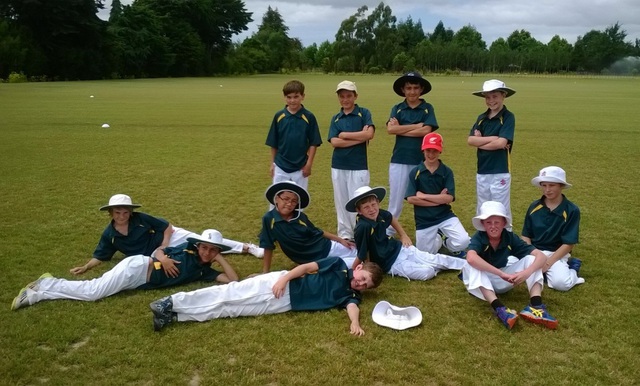 Coach: Crispian Stewart
Manager: Debbie Graham
Results: 3 losses, 1 win
Game 1 - Rotorua v Cambridge
Captain – Karsen Dyball
Loss by 5 wickets
Rotorua 65 all out
Cohen Stewart - 8
Cambridge 66 for 5
Toby Carr - 2 wickets for 8 runs
Game 2 – Rotorua v Wellington Collegians
Captain – Toby Carr
Loss by 1 run
Wellington 109 for 6
Toby Carr – 2 wickets for 7 runs
Rotorua 108 for 9
Matthew Vietch – 23
Karsen Dyball - 15 not out
Game 3 – Rotorua v Upper Hutt
Captain – Angus Vietch
Loss by 6 wickets
Rotorua 83 all out
Mana Waetford – 24
Montell Graham - 15
Upper Hutt 84 for 6
Angus Vietch – 2 for 15
Game 4 – Rotorua v Taradale
Captain – Montell Graham
Win by 17 runs
Rotorua 115 for 9
Dylan Tamariki – 17
Matthew Vietch – 16 not out
Angus Vietch - 12 not out
Anthony Marson – 11
Taradale 98 for 8
Our player of the Tournament was Matthew Vietch for some valuable runs and creating partnerships when we needed it most. Matthew also bowled very well and was our star wicket keeper.
Matthew was the 8th ranked run scorer with 45 runs.
Toby Carr was ranked 1st for top wicket-taker in the tournament with 6 wickets.
Dylan Tamariki was ranked 2nd in the tournament for fielding with 3 catches.
Our top partnerships were:
1st wicket – 27 runs Tamariki/Sutton v Taradale
2nd wicket – 19 runs Waetford/Phillips v Upper Hutt
3rd wicket – 18 runs Stewart/Carr v Wellington Collegians
4th wicket – 11 runs Stewart/Dyball v Taradale
5th wicket – 2 runs Waetford/Carr v Upper Hutt
6th wicket – 27 runs Waetford/Graham v Upper Hutt
7th wicket – 34 runs M.Vietch/Phillips v Wellington Collegians
8th wicket – 23 runs Stewart/Marson v Cambridge
9th wicket – 19 runs M.Vietch/Waetford v Upper Hutt
10th wicket – 35 runs M.Vietch/A.Vietch v Taradale
11th wicket – 8 runs M.Vietch/Carr v Cambridge
We were able to bat 12 players
Our biggest partnership was 35 runs for the 10th wicket between the Vietch boys